Affordable Covid-19 PPE's (KN95 Mask, Hand Sanitizer, Face Shield, Disposable Face Mask)
Posted on June 24 2021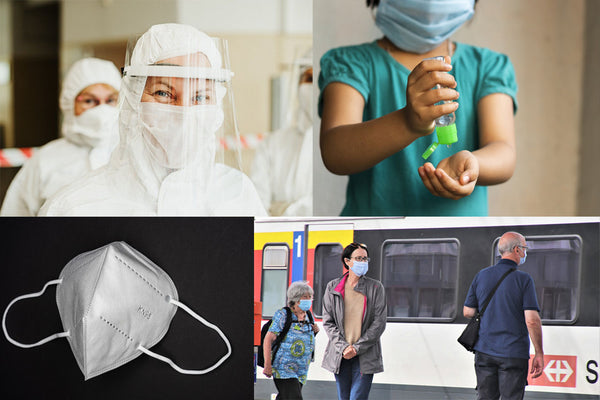 Affordable Covid-19 PPE's (KN95 Mask, Hand Sanitizer, Face Shield, Disposable Face Mask)
PPE You Need for COVID-19
As the COVID-19 pandemic continues worldwide, we need to know how to protect ourselves.
Masks are currently mandatory in many countries as a crucial part of protecting the wearer and others as COVID-19 can be around you without you realizing it.
Hand sanitizer is another helpful tool for protecting yourself, as long as you use a quality product that helps the World Health Organization.
These protection methods, along with hygiene measures and physical distancing, are the most important ways to protect yourself and others from COVID-19.


HOW TO PROTECT YOURSELF FROM COVID-19 AND OTHERS TO STOP THE SPREAD?

Wear face 

Face Mask and Faceshield

Wash your hands with soap and water, mainly before and after going to the toilet and before eating

Sanitize your hand's 

Hand Sanitizer

Avoid touching your eyes, nose, and mouth

Clean and disinfect surfaces you usually use, such as benchtop, desk and door handles

Clean and disinfect objects you often use, such as keys, mobile phones, work passes, and wallets

Avoid using cash if possible: use the easy way.

Open windows or change air conditioning to increase the amount of air.

Shield your sneezes and coughs with tissues or with your elbow, and dispose of the used tissues immediately

Stay away more than 1.5 meters from others.

If you have symptoms like cold- or flu, get medical advice and get tested.

If you have COVID-19, you should isolate and follow the directions of your local Public Health Unit Protocol.


What is PPE?
Personal Protective Equipment is Equipment or tool worn by people to protect themselves from hazards. About COVID-19, standard PPE includes masks, gloves, hand sanitizer, eye protection, and screens.


Types of Masks and Tips for Use
Face masks can be surgical masks, N95 masks, or cloth masks. N95 masks are also disposable but provide more protection than surgical masks because they filter out large and small particles. These masks are invented to block 95% of very small particles. 
Cloth masks are made of washable fabric. The Chief Health Officer recommends a mask with three layers. However, any face mask or covering is better than none. You can purchase surgical N95 masks or disposable face masks online.
Remember, Wash or Sanitize your hands before and after putting on and taking off your mask. Don't touch your mask while wearing it, but clean or sanitize your hands if you accidentally touch your mask. If your mask becomes wet or dirty, change to a new one.
When should you wear a mask?
Where masks are mandatory in many countries, you must wear a face-covering when you leave your home (unless an exemption applies). This includes traveling on public transport and when in a vehicle with people from outside your household.

Elsewhere, many health experts recommend that everyone wears a face mask when outside their homes, especially in spaces such as workplaces, public transport, supermarkets, and other shops. This is important in states where there is evidence of community transmission, even at low levels.
When should you use hand sanitizer, and why?
Hand sanitizers are particularly useful when you are away from your home for purposes such as shopping, exercise, work, and caring for others. Hand sanitizers are convenient to have in various places such as your car, handbag, work desk, and by your front door.
Hand sanitizers contain antiseptic ingredients, which kill microorganisms (such as viruses) or prevent the growth of microorganisms. The effectiveness of alcohol-based hand sanitizers depends on the amount of alcohol in the formulation.